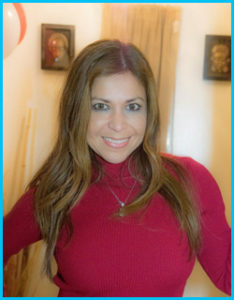 Rocio C. Goode is native from Lima, Peru, and emigrated to USA in 1989. Rocio has two college age sons and feels blessed and grateful for having the privilege of being their mother. Rocio has a Bachelor's degree from FIU in International Business Administration and has worked for the Tamarac Fire Department for a number of years. Working for the Fire Department has been gratifying because she can provide support and be part of the amazing group of people whose jobs are to save lives and who make a difference in people's lives.
Rocio is very active and when she is not at work, she is working on herself and looking for opportunities to better herself spiritually, physically, and professionally. Being a single mother has taught Rocio to always be resilience and strong when facing difficult situations in life; life is too short and should be lived to the fullest making every moment count.
Rocio was introduced to hot Yoga six years ago by her fiancé; from that moment on, she started to discover gradually so many positive effects that Yoga was bringing to her life.
Yoga brings a sense of gratefulness and humbleness to her and to everyone who practices it. Rocio's goal is to continue to grow spiritually and always be an improved version of herself each day and be able help and give a hand to those who need it the most.
Rocio is excited to be part of this journey and having the honor to be a Body And Mind Ambassador and winner of the Student Scholarship from NamaStacy Yoga Corporation® is an opportunity to LOVE YOGA even more. She is looking forward to share, teach and transmit the wonderful benefits of YOGA and pay it forward one yogi at a time!
Wonderful Benefits:
Yoga has taught her to live in the present and be more grateful towards life and other human beings
Yoga is about knowing the limits of your body, but helps you work within those limits to improve them
Yoga teaches you how to breath by focusing on the physical and emotional activities in a more efficient way and breathing longer and slowly
Yoga has a magical effect because it clears your mind while it detoxifies your body and mental stage
Yoga can improve your balance and strength because by doing the more advanced poses, it activates muscles groups in the core and upper body
Yoga has helped her to build confidence and self-esteem through self-awareness and you can exceed your goals over time by practicing on a regular basis
Namaste!!
Rocio Goode
Student Scholarship Winner
Pompano Beach, FL
yoga hOMe®